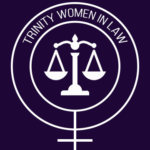 Women in Law
HOME / Branches / Trinity Women in Law (TWIL)
What is Trinity Women in Law?
Trinity Women in Law (TWIL), the first initiative of its kind in Ireland, is back again to bring you a year of fun, interactive events based on intersectional, gender-based topics. Our TWIL Officer, Rebecca, and everyone on our team is eager to strengthen our community of members, bringing everyone together to spark conversations on issues arising from our environment as women & non-binary individuals. If you want to see what it's all about, come along to our events to get involved!

This year, we will continue to host our classic events that you all know and love such as the inaugural Mentorship Programme (and) Launch, which sees growing success each year, as well as some new additions such as the publication of a TWIL report at the end of the year. We also plan on hosting an interactive Unconscious Bias workshop, open to all members, as well as launching a period poverty drive for women in poverty, a Women Who Wow Panel & photo exhibition, TWIL Day and so much more!

With a passionate subcommittee and TWIL Officer dedicated to ensuring the highest success of all of our events, TWIL is bound to be one of LawSoc's highlights again this year!
Why Trinity Women in Law?
In 2021, over 52% of qualified solicitors in Ireland are women. However, less than 30% of partners at senior level in Irish firms are female. According to Bar Council figures from 2016, 65% of law graduates are women, but this number drops immediately as soon as they begin to work. Only 39% of barristers are female, and just 16% of senior counsel.
We hope that our panel discussions and future events will look at why it is the case that gender equality still does not fully exist in the legal profession in 2021, and what we can be doing as the future generation of Irish lawyers to remedy that.
Rebecca Kelly
Eimear O'Neill
Holly O'Brien
Beatrice Campbell
Amy Cox
Lauryn Musgrove-McCann
Eva O'Beirne
Meher Bano
This year on international women's day, LawSoc will launch our first TWIL day. The day will begin with a "swapaganza", in order to raise awareness about fast fashion and sustainability. This day will also include a networking event as well as an Unconscious Bias Workshop.
The TWIL Report x Mentorship Programme
We are also adding a new facet to the TWIL mentorship programme, whereby each mentor and mentee will collaborate on writing an article throughout the year. At the end of the year all the pieces will be compiled in a publication to form the "TWIL Report". This will be launched at the end of the year.
As well as these large events, we will be running a series of smaller events throughout the year, which will be sponsored by A&L Goodbody. These will range from lectures on substantive issues surrounding gender in the law; to a mentor speed-networking event as well as more informal talks and panel discussions on various issues.
We are always looking for fresh ideas and perspectives, please contact our TWIL Officer Rebecca Kelly at trinitywomeninlaw@gmail.com if you have any questions or want to get involved.